"We Can Fly" by Happiness is featured on Just Dance Wii 2.
Appearance of the Dancer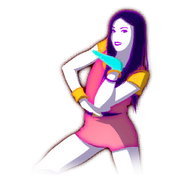 The dancer is a female teenager with very long purple hair. She wears a pink one-piece dress with a purple belt, purple knee-length boots with an orange edging
Background
The routine takes place in what looks like a hall with two long staircases. They meet at the top, where a window is located behind the dancer. It later changes to purple neon lights.
Gold Moves
There are 6 Gold Moves in the routine:
Gold Moves 1 and 2: Shake your right hand, then bring it down and make your left hand horizontal.
Gold Moves 3 and 5: Jump up with your left hand in front of your face and hit the ground with both hands.
Gold Move 4: Bring both hands up slowly, then put them in front of you quickly.
Gold Move 6: Put both hands in front of your face. This is the final move of the routine.
Trivia
Along with I'm Your Man, We Can Fly is the hardest song in the game based on their difficulty rating.

However, I'm Your Man' difficulty/effort ratings are 3+/2 and the ratings for this song is 3+/3+.
We Can Fly is the only song to contain a 3+ in both the difficulty and effort. However, players may train in Breakdown Mode.

Some of the pictograms appear before the moves are actually performed.
The background is taken from the music video. However, the background is colored orange instead of white to prevent the dancer from blending in with the background.
The neon lights from the chorus are part of the coach extraction; without them, the extracted background looks black and plain, with blue bubbles.

Due to this, if the player has earned enough PERFECTs or GOODs to get the "On Fire" feature, the effect for the said feature will disappear until the choruses are over because the dance extraction will cover them.

The song is the most recently released in Just Dance Wii 2, along with INDEPENDENT WOMAN.
Gallery
Videos
References