Yeah!めっちゃホリディ (Yeah! Meccha Holiday)
Game(s)
Just Dance Wii 2
Artist
Aya Matsuura (松浦 亜弥)
From the
Year
2003
Release Date(s)
Difficulty
2 (Medium)
Effort
2 (Average)
No. of Gold Moves
6
No. of Shake Moves
Dancer Gender(s)

♀

Mashup
Alternate Routines
Dance Mode
Solo

Menu Color(s)

Pictogram Color
Disco
Glove Color

Bright Cerulean




Blue Chill

(Arrows)
Lyrics Color
Pictogram Count
136
Total Calories
Burnable (

kCal

)
Duration
Code Name
Preview Audio
Choreographed By
Performed By
[Source]
"Yeah!めっちゃホリディ" ("Yeah! Meccha Holiday") by Aya Matsuura (松浦 亜弥)is featured on Just Dance Wii 2.
Appearance of the Dancer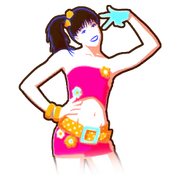 The dancer appears to be a female teenager with long brown hair in a high ponytail. She wears two gold bracelets, a pink tube top, pink shorts, a gold belt and a pair of pink boots.
Background
The background is either a hotel room or the dancer's room. There is a picture of the dancers from Love Revolution on the left.
Gold Moves
There are 6 Gold Moves in this routine:
Gold Move 1: Put your left hand on your hip and curve your right hand upwards.
Gold Moves 2 and 5: Just point to the left, but upwards with your right hand while your right leg is up.
Gold Move 3: Point your left hand up and right hand down.
Gold Move 4: Shake both hands.
Gold Move 6: Point to yourself with your right hand. This is the final move of the routine.
Trivia
The Pop Star raccoon makes an appearance before the second verse.
Both Love Revolution dancers appear on the poster. Whenever Morning Musume is sung, they start moving their legs.
The Mickey background appears at the end of the routine.
The dancer resembles the Sweat dancer of Limbo.
The first lancet of the clock spins very quickly, while the second is completely motionless.
The background is slightly inspired from the music video; the objects used from it are the fan, the ice cream cup and the pink puppets.

The coach is also based off of how Aya Matsuura appears in the music video, with a few color alterations to her outfit.

The pictograms telling to move from one side to another have white arrows instead of blue arrows as the dancer has a blue glove.
The dancer looks much more realistic than all the other dancers in the game.
Gallery
Videos
Official Music Video
Gameplay
References
Ad blocker interference detected!
Wikia is a free-to-use site that makes money from advertising. We have a modified experience for viewers using ad blockers

Wikia is not accessible if you've made further modifications. Remove the custom ad blocker rule(s) and the page will load as expected.